What to check when taking delivery of a new car
By LeaseCar , 10 Oct 2019
Getting a new car is really exciting, but you don't want to accept your new car on the spot without checking it over first. You wouldn't buy a house without viewing it, and a new car is no different.
Below, we've listed some of the top things you should check when your new leased car is delivered.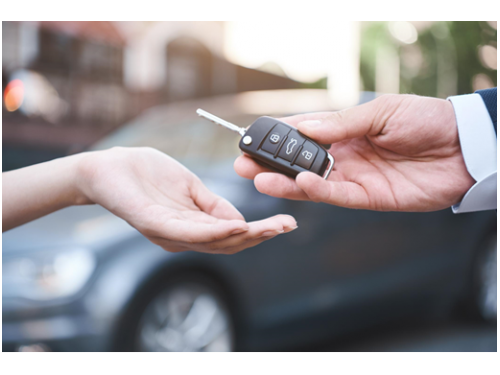 Paperwork
When your car is dropped off, the delivery company will likely provide you with your paperwork when they hand over the keys. Among this paperwork should be an invoice for the vehicle. You should check the invoice to confirm that the listed price is the one you agreed on with the finance provider. It's also important to ensure that you're provided with the vehicle's handbook and service book.
This is the point at which you'll be asked to sign an acceptance note, but you must look over the rest of the vehicle to ensure that you're happy before you sign this.
Bodywork
Begin by observing the outside of the vehicle. You should check the paintwork on all of the panels to ensure that there aren't any noticeable scratches or dents. Check carefully around any edges, such as the wheel arch, as these areas are more likely to become damaged.
You should inspect the windscreen for any chips or cracks. These can worsen over time and you may have to pay out of your own pocket to have the windscreen fixed or replaced. You should also check the windows for signs of damage too, including your rear window.
The tyres should be examined to make sure that they aren't worn or cracked. This would be unlikely with a new vehicle but it should be checked anyway. The alloy wheels should also be examined for signs of scuffs or kerb damage.
Interior
Once the outside has been checked, you can move onto the inside. You need to ensure that there are no noticeable marks or scuffs, particularly where people get in and out, so take extra care when observing around the doors.
Light fittings shouldn't be loose, so make sure that they are all stable. You can also determine whether the electrics work correctly, so try to adjust your seat or open the window using the correct buttons.
Finally, you should check the seats and other areas that are covered in fabric to make sure there are no stains or rips.
While you're inside the car, it might be worthwhile to try turning the headlights on and off to ensure that they work too.
Mileage
New cars tend to have what's known as 'delivery mileage'. This should be less than 100 miles. If the mileage seems significantly higher than this, you can query it.
Accepting the vehicle
Acceptance of the vehicle is proof that it has been inspected by you and that you have found it to be in good condition. If you find any damage, you must point it out straight away or you won't be able to have it fixed later unless you take it to a private garage and pay for the repairs yourself.
How much does car delivery cost?
Most companies will include the cost of delivery in the price of the vehicle so you shouldn't have to worry about this. Other companies may charge you extra for this service and it could cost between £500 and £700.
What is acceptable delivery mileage on a new car?
It's extremely unlikely that your new car will have zero miles on the clock. It may have been driven around the factory during production, on and off transport to be sent to the dealership and during examination by the dealership. Because of this, it's likely that a new car will have at least a few miles on the odometer. However, the mileage should not be very high. If the mileage on your new car seems excessive, it could be worth questioning the dealer about this. It's worth noting that the car's mileage on the day of delivery won't be included in your yearly lease mileage.
If you've leased a new car, but you're worried that you might not be able to make the minimum payment, you should check out our guide on what to do if you can't afford your car lease anymore. If you think you may struggle to pay for your new vehicle, you can discuss your options with us.
Find out what our customers love about us
Set our prices to show or