So, you've decided to lease a car and you've picked the right model for your needs. All that remains is to sort out the paperwork before you head onto the road.
Yet while you might be in a rush to get your signature on the dotted line so you can get your mitts on your motor, it's important to temper your enthusiasm just a little bit so that you can pause and ask some key questions. These questions will make sure you are clear about your lease and will enjoy a trouble free agreement.
It can sometimes be easy to forget to ask these questions in the heat of the moment, so here's our guide to ensure that you won't miss anything:
How much am I actually paying?
Before you commit to anything you need to be clear of the cost of the agreement that you've signed. Make sure you know what the monthly payments will be, the interest rate you are being charged and the total amount you can expect to repay. You also need to make sure you are happy with the up front cost by way of deposit, be aware of any 'balloon' payments at the end of your deal and be sure that you know of any fees or charges that your agreement includes.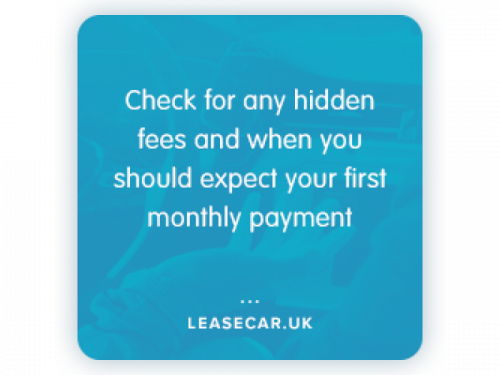 When will my payments come out?
This might be a little point, but it's important to bear in mind. Try to ensure that your monthly repayments come out after your payday.
What should I know about 'wear and tear' during the course of my contract?
At the end of a lease, you should return the car in a good condition and you may face a penalty if you are found to have issues deemed to be 'excessive wear and tear'. Some wear and tear is clearly inevitable over the lifetime of your loan, but you have to hand it over in a safe and roadworthy condition with a full service history and after a thorough clean. While you don't have to worry about the resale value of your leased vehicle, you do need to be sure to keep in a good condition.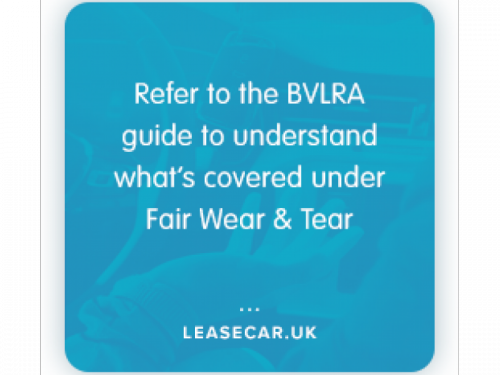 Check out our wear and tear guide if you want to know more about this.
Does it come with a warranty and, if so, what does that cover? Many people opt for leasing so that they can get behind the wheel of their dream new car at an affordable rate. If that's your motivation and you've chosen a new model, then you are likely to be covered by a manufacturers warranty. You need to be clear about whether you have this and, if so, what it covers and for how long – be that measured in years or miles.
What is my maximum mileage and what happens if I go over?
Your lease will cover an agreed number of miles, so you need to make sure this is as accurate as possible for your use. Make sure you are clear what charge you will face for going over this maximum agreement and how, if necessary, it might be possible to adapt this figure if your circumstances change during the leasing period.
What if I need to get out of my leasing agreement?
Clearly you want to keep your car for the full length of the deal but it would be remiss of you not to consider the consequences of ending your lease. Make sure you know what the payments would be if you chose to walk away before the contract ends.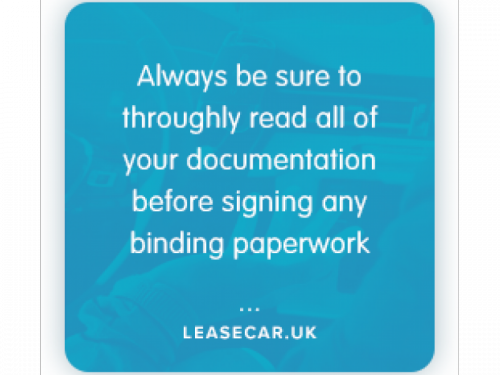 What do I do about insurance?
You will need to take out an insurance policy so that you can drive your new lease car. However, there is one crucial difference to bear in mind. When filling out your details, the company you are leasing from is the registered owner and you are the registered keeper. Make sure this is clear on your documents and, if necessary, check with the company you are leasing from to ensure you are correctly filling out their details. You also need a fully comprehensive insurance policy.
Is my road tax included?
Make sure you're clear on this. It's no excuse later on to say, 'I thought this had been done for me'. That's especially important now that paper discs are no longer issued for road tax.
What else is included in my lease package?
Make sure you know the full extent of any non-fuel running costs that might be included in your agreement. Deals can include maintenance packages that will help you to ensure the car remains in a good condition throughout the course of the lease and saving you from having to do this for yourself.
Can I make modifications to the car?
Would you ideally like to make a tweak to your car? What if, say, you want to add a tow bar? You mustn't do this without the express permission of the owner. If this is something you are planning, it's probably best to discuss this at the start.