Out of practice drivers about being warned about the theory rules they may have overlooked in lockdown.
The motoring experts at LeaseCar.uk have compiled the most forgotten about theoretical rules of the road.
Since it was introduced in 1996, the theory test has been the preface to every person's practical test. Learners are expected to understand the rules of the road and sit an exam answering multiple-choice questions, scenarios, and online hazard perception exercises.
The test teaches drivers how to be safe and look out for potential hazards on the road. However, those that have been out and about on the roads for a few years can also benefit from scrubbing up on the theoretical side of driving.
Road users are being reminded to keep their documents to hand, only use the horn when necessary and are being given a stopping distance refresher.
A spokesperson for LeaseCar.uk said: "Most of us have been using the roads a lot less because of lockdown. We are encouraging everyone to look over their driving theory knowledge before getting back out there in busy traffic.
"Learners are facing long wait times for their practical tests too, so those who have already passed their theory should be prepared to refresh their knowledge before practical tests can resume in April.
"It doesn't matter if you are out and about almost every day, or if you haven't driven for a while, a refresher of the rules of the road is always worth it."
Theory rules that are easily forgotten: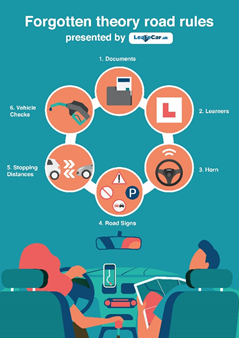 Drivers should keep their driving license, proof of insurance and MOT certificate to hand when behind the wheel. They will be required by the police if the vehicle is involved in an accident, if they are not on the driver's person, they may be asked to take them to a police station within seven days. It is best practice to keep a copy of each in a safe place in the car, for example, the glove box or boot, so the details are always to hand. In the unfortunate event of a collision, drivers should make sure they attain the name of the other driver involved, their address and telephone number, the make and registration number of their vehicle, who it belongs to and details of their insurance company.
The cancellation of instructor-led driving lessons across the country due to Covid has got many learners looking to family and friends for practice. A lot of responsibility lands on the shoulders of someone supervising a learner and they are expected to follow the law as if they were the driver, for example, they must be sober and not using a mobile phone. To supervise a learner, drivers must have held their full licence for three years or more, be at least 21 years old and be qualified to drive the type of vehicle they are supervising in.
The rules surrounding honking a car's horn seem to be the most disobeyed road law. Drivers should only use them while the vehicle is moving because they need to alert or warn other road users of their presence. It is also illegal to use a horn on a moving vehicle on a restricted road between 1:30 p.m. and 07:00 a.m. A restricted road is anywhere with streetlights and a 30-mph speed limit. Drivers are not allowed to sound their horn in aggression, regardless of the situation.
There are hundreds of different road signs, each with its own meaning. Learners hoping to sit their theory will be cramming in content from the Highway Code to understand what they all mean, but it will not harm experienced drivers to do the same. Generally, signs set in triangles give warnings, those in circles give orders and information is given on rectangular signs. Road markings painted on the surface of the road also serve the same purpose as signs and should be understood by road users too.
Drivers who sat their theory test many moons ago will remember the agony of trying to learn each individual speed's stopping distance. Stopping (or breaking) distances are how long it takes a vehicle to come to a complete stop after the driver has seen a potential hazard, from thinking to applying the brakes to coming to a complete halt. The distances have not changed but it is worth a brush-up, as they are still as important as ever.
20mph – 12m stopping distance in total.
30 mph –23m stopping distance in total.
40 mph –36m stopping distance in total.
50 mph –53m stopping distance in total.
60 mph –73m stopping distance in total.
70 mph –96m stopping distance in total.
Regular checks to a vehicle are essential and required in law. These checks can include oil levels, outside light luminosity, and seat belt reliability. However, tyres and wheels are one of the most important parts of the vehicle to check, as they are your only contact with the road. Under-inflated tyres can lead to poor braking, increased fuel consumption and heavy steering. Worn and damaged tyres make a vehicle unroadworthy, they should have a tread depth of at least 1.6 mm and have no cracks or cuts on the surface.