How old do you have to be to lease a car?
By LeaseCar , 10 Oct 2019
When you've just passed your driving test, you may be feeling elated and enthused to get out on the roads. But first, you need to get yourself a vehicle.
Choosing a vehicle can be a minefield. What make, size, model and colour should you go for? How many seats do you want? Do you need a powerful engine or a small city car? The big question is usually, how can I afford a car? You could buy a vehicle outright or you could lease a car with manageable monthly rentals. Leasing is always a great option but there may be some restrictions, such as age.
In this article, we answer all of your queries around age limits and car leasing, including the minimum age and maximum age that you can be to lease a vehicle.
Is there an age limit for leasing a car?
You can have a provisional driving licence from the age of 16, and many drivers will pass their test when they're 17. Once you've passed your test, you may want to get a car straight away. However, there might be certain age restrictions that you need to be aware of first. Despite having a licence and passing your test, you may not be able to take out any kind of financial agreement until you're at least 18 years old. This includes taking out finance to lease a car.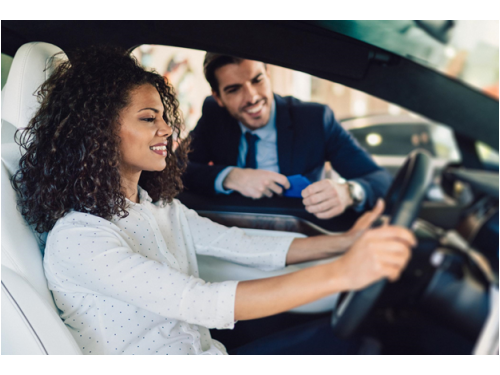 The issue that many finance providers might have with young people is their lack of credit history. In order to lease a car, you will need a good credit score. However, a poor credit score or little credit history can be problematic for the finance company. It's unlikely that any finance provider will just go off your credit history, and they may use other information such as your income and any other debts that you may have. It's unlikely that a young person will have any loans, credit cards or mortgages, and therefore their credit history may be very minimal.
For some of our leasing deals, there are restrictions when it comes to age. For example, you must be over 23 years old to take out our leasing and insurance service. This service not only provides you with your leased vehicle but also covers any maintenance costs and includes the price of your insurance, something that could be beneficial for anyone between the ages of 23 and 25, whose insurance may be higher.
Is there an upper age limit for leasing a car?
You may not be worried about being too young to lease a car, but instead worry that you're too old. With most leasing companies, there isn't an upper age limit for leasing a car. You'll be eligible as long as you have five years' of address history, three years' of employment history, a good credit score and a full UK driving licence. If you're retired, the finance company will create a financial analysis based on your pension to determine whether you can make the minimum rentals on the leased vehicle.
It's worth noting that when you reach the age of 70, you will need to renew your driving licence and continue to do so every three years. This regulation is in place to ensure that you're still able to drive in a safe manner. Any physical and medical conditions that you have should be reported to the DVLA, particularly if they could have a negative impact on your ability to drive.
In some cases, such as our car leasing and insurance service, the maximum age is 67 and you must not have been advised to stop driving by the DVLA or a medical practitioner.
Find out what our customers love about us
Set our prices to show or