When it comes to choosing your next car, there are multiple avenues that you could go down, from leasing a vehicle to buying a secondhand one outright. Whether you choose to lease or buy, your decision could vary depending on a number of factors, including your budget, personal preference or lifestyle. You should think about each of these things carefully before making your mind up.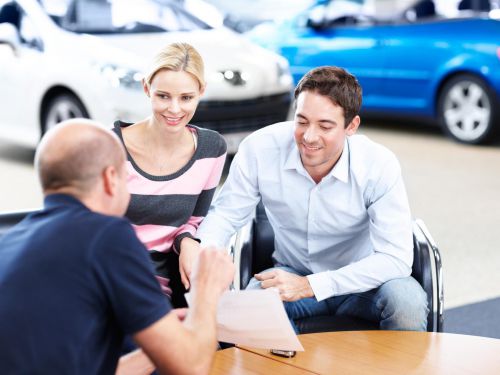 Below, we've outlined some of the benefits of both buying and leasing a vehicle to help you choose which avenue is right for you.
Should I buy or lease a car?
It's likely that you have an idea of the sort of vehicle you want, the type of fuel it uses and how many seats it should have. Once you've made these choices, you might want to take a look at a few models that will work for you and have a shop around to get an idea of prices.
Cost
When it comes to price, you may find that the monthly rental is more expensive when you buy a car using a personal loan. You'll probably have to put a large initial rental down to secure the vehicle and then gradually pay off the loan over a set number of years. Therefore, leasing may be the preferred option for those who don't have an initial rental. You can put down one month's rental and have the car delivered as soon as it's in stock. The ongoing monthly rental will likely be cheaper too. If you were to purchase a vehicle, your loan requirements would likely be higher than the monthly rental you're required to pay for a leased vehicle. This means that it could be cheaper to lease a car over two to three years than it is to own one.
For either option, you'll likely need a stable source of income so that the finance company trusts that you can make the minimum rental amount each month. They may require some additional finance information and they could check your credit score, too. Most finance companies will want you to have a 'good' or 'excellent' score, however this isn't always a necessity and depends on the company.
You should also take vehicle depreciation into account before acquiring a new car. When you lease a vehicle, you can choose a fixed amount of time that you want to lease it over (usually two to four years). The amount of the monthly rental takes into account the natural depreciation of the car's value over this fixed term instead of over its full lifespan. If you choose to buy a vehicle, it could depreciate much faster and you might lose out or pay more than you should for the car. This is yet another reason why your leased car could cost less in the short term than your bought vehicle.
When your leased car's term is up, you don't have to worry about selling it. You can give it back to the provider and swap it for a brand new one, starting the whole cycle again. Whereas, if you purchase a vehicle, you'd need to sell it when you wanted a new one, which can be stressful and you could lose money on the vehicle, selling it for less than it's worth.
Mileage
One of the benefits of purchasing your own car is that you can drive as many miles as you want – there isn't a restriction. The more miles your vehicle has, the less your car will be worth, however you aren't limited to how far you can drive. If you were to lease a car, you'll likely have a yearly mileage restriction and may need to pay more if you want this to be increased. Therefore, if you travel a lot for work or frequently drive long distances, it may be worthwhile purchasing your own vehicle.
Maintenance
When you buy a vehicle, it's your responsibility to look after it and cover the cost of any repairs. However, depending on the kind of lease you take out, some maintenance costs could be covered. Some lease deals come with a maintenance package. If you pay for this maintenance plan, you could have certain parts of your car fixed or replaced should they fail or break, including bulbs, batteries, cam belts, alternators and more. It may even cover the cost of your MOT test, which you would otherwise have to fork out for.
Should I buy or lease an electric car?
Electric cars are becoming more and more popular as the UK has pledged to discontinue gas vehicles by 2040. However, they tend to be more expensive because of the cost of their batteries. The battery technology is always improving to ensure that your vehicle can drive a further distance on one charge. If you were to buy an electric car, it would likely depreciate quickly and new technology would soon be available to make your car more efficient. If you were to lease an electric car for a couple of years, you could upgrade to a newer, more efficient model regularly to keep up with the adjusting technology.