Take a walk in the UK countryside and national parks and you'll likely come across a number of different types of birds, small rodents, and perhaps a deer or two – but did you know that there are places you can go to see wild horses, red squirrels and even otters, too?
The LeaseCar.uk team have researched and revealed a road trip that Brits can take across the country to see ten of the most uncommon species.
The British Isles are home to thousands of different animal species but some are harder to find than others.
Whilst the country is most known for its hedgehogs, badgers, and plethora of wild birds, travellers also have the opportunity to see seals, otters and even whales and sharks in British waters.
For families wishing to get a glimpse of the impressive Golden Eagle, they should head to the Scottish highlands.
And despite almost being wiped out by the introduction of grey squirrels to the country in the 1800s, red squirrels still exist in various parts of the UK including Cumbria and Northumberland.
Even Basking Sharks can be seen off of the Cornish coast at some points in the year, as well as in the Scottish Hebrides – and they've even been spotted in Cardigan Bay, Wales.
We think that using these locations to plan your next road trip or holiday in the UK once lockdown restrictions are eased is a great idea – we are a nation of animal lovers after all.
If you're lucky enough and travel at the right time, you might even be able to spot dolphins, seals, basking sharks and even killer whales in UK waters!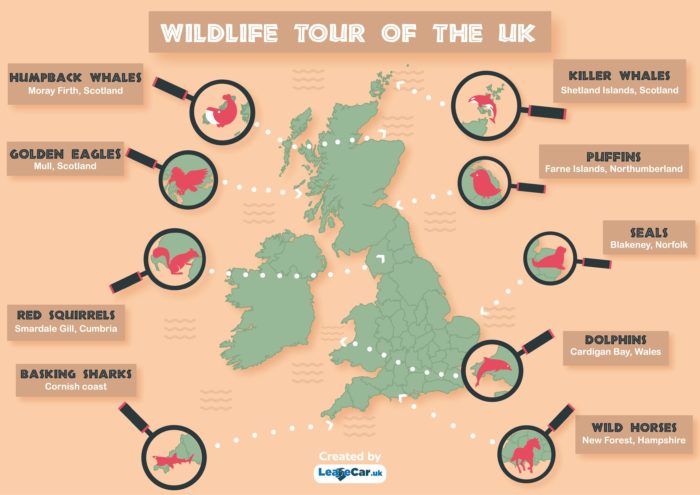 Other areas to see these animals include:
Red squirrels
Cumbria, Smardale Gill
Cumbria, Wreay Wood
Dorset, Brownsea Island nature reserve
Isle of Wight, Bouldnor Forest
Lancashire, Freshfield Dune Heath
Northumberland, Hauxley
Northumberland, East Cramlington Pond, Holystone North Wood, Holystone Burn
Northumberland, Tony's Patch
Northumberland, Juliet's Wood, Briarwood Banks
Perthshire, Loch of the Lower
Otters
Lancashire, Aughton Woods
Norfolk, Ranworth Broad
Staffordshire, Wolsley Centre
Devon, Cricklepit Mill
Wild horses
Hampshire, New Forest
Devon, Dartmoor National Park
West Somerset/North Devon, Exmoor
Puffins
Yorkshire, Bempton Cliffs
Aberdeen, Bullers of Buchan
North Cornish coast
Wales, Skomer
Northumberland, Farne Islands
Fife, Isle of May
Golden Eagle
Scotland – Mull (Inner Hebrides), Wester Ross Coastal Trail, Cairngorms and Findhorn Valley, Harris (Outer Hebrides), Islay (Inner Hebrides).
Harbour seals and grey seals
Orkney Islands, Scotland
Norfolk, Blakeney
West Cornwall, various locations
Lincolnshire, Donna Nook
Pembrokeshire, Skomer Island
Monach Isles, Scotland
Northumberland, Farne Islands
Norfolk, Horsey Gap
Scotland, Moray Firth
Cornwall, Falmouth
Dolphins (Common, Bottlenose, Risso's, White-beaked, Striped)
Wales, Cardigan Bay
Scotland, Orkney
Scotland, Shetland
Anglesey, Point Lynas and Puffin Island
Cornwall, Land's End Peninsula and St Ives Bay
Devon, Berry Head
Dartmouth coast
Killer whale
Scotland, Orkney
Scotland, Shetland Islands
Wales, Cardigan Bay
Humpback whale
Scotland, Fife, Newburgh
Scotland, Moray Firth
Scotland, Stoer Head lighthouse
Scotland, Hebrides
Scotland, Shetland Islands
Basking sharks
Cornish coast
Scotland, Hebrides
Dorset, Lyme Bay
Isle of Man's southern coastline
Wales, Cardigan Bay