It's no secret that the UK loves a good takeaway. With adults in the UK consuming 22 million takeaway meals every week, it's clear that as a nation we can't get enough of quick and easy solutions for our meals.
For some, the ultimate takeaway experience might be a walk down to the local chip shop, but for those who need to travel long distances or commute to work, nibbling behind the wheel can be the only option. Here at LeaseCar, we wanted to undertake a survey to find out just how many people are eating in their vehicles after a long journey, on their commute to work, and/or in the car park at lunch time. Our survey showed that more than 60% of Brits find themselves eating in their cars at least once a month.
4 out of 10 people occasionally eat in their car while driving which while not illegal could easily land you with a careless driving penalty.
With these findings in mind, we set out to discover which of the UK's most popular cars best fits the UK's needs for consuming fast food. Here are our findings:
THE PERFECT CAR FOR TAKEAWAY MEALS
Our study revealed that with a dashboard width of 92cm, four cup holders and footwell measurements of 70×65, the beloved Kia Sportage is the most practical vehicle on the market for slotting in your Bargain Bucket or Big Mac meal.
It's no surprise that the KIA Sportage continues to be a popular option for motorists across the UK. The SUV was the 12th most popular car in the UK in 2016, with 40,083 registrations according to the Society of Motor Manufacturers and Traders (SMMT).
Although the car doesn't have trays or a leather interior to reduce the risks of greasy spills, we found that passengers can enjoy a massive feast of McDonald's food, as the KIA has space for:
11 Big Macs
9 Medium Fries
12 Medium Fries
20 ketchup dips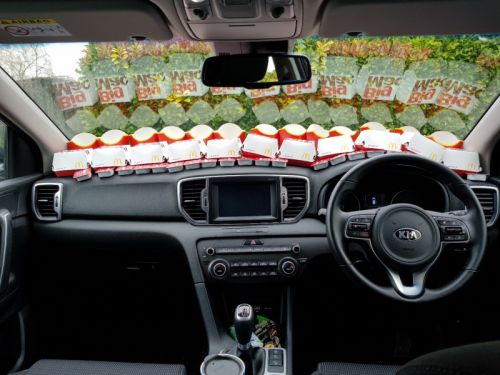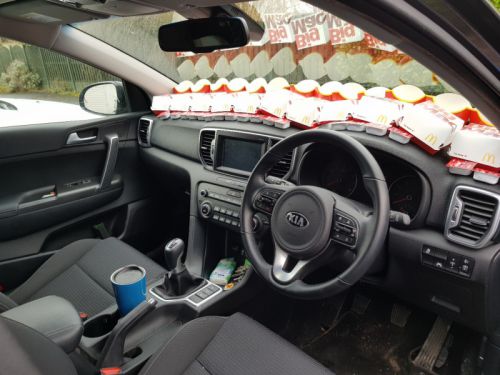 A CAR TO FIT EVERY NEED
Overall, our top 3 can hold a whopping number of different types of fast food:
The Kia Sportage can hold 23 Big Macs or 29 medium cokes, while still having space for 27 ketchup sachets.
The BMW 3 Series can hold 19 Signature Burgers and 11 Costa Grande cups.
The Nissan Qashqai can hold 16 servings of medium fries along with 24 tomato sauce sachets.
While the Kia Sportage is the best allrounder, many of the other cars have their own perks to help those eating on the move. For instance, if you're likely to spill your food, the leather interior of the BMW 3 series might be a better fit for you. Or if the door pocket is your favourite place to stash your food, then the sizeable door pockets of the Fiat 500 would be your best choice. HOW DID WE JUDGE THE CARS? We considered the different areas of a car where passengers typically eat fast food, and worked out the following criteria for a drive-through-proof car:
Number of cup holders
Dashboard depth and width
Size of the side door pockets
Footwell size
Does it have an arm rest compartment?
Does it have trays?
Does it have leather interior?
Number of windows
For the cars, we looked at the best-selling cars in the UK last year and narrowed them down to eight by considering their size and power. This left us with the following eight cars:
Ford Fiesta
Nissan Qashqai
BMW 3 Series
Volkswagen Golf
MINI Cooper
KIA Sportage
Vauxhall Corsa
Since the data was not readily available, we conducted the research manually by measuring each of the areas using a tape measure. Then, to compare the different cars, we allocated points (to a maximum of eight) for each category.
To help us understand how much fast food the cars could hold, we measured containers from McDonald's, Burger King and KFC to identify exactly how much food can realistically be eaten in each of the vehicles.
What car do you think is best for housing your fast-food or snacks on the move?
Are you aware of the latest laws around driving in the UK? Sources http://www.autoexpress.co.uk/best-cars/94280/best-selling-cars-in-the-uk-2017