Late last year, Prime Minister Boris Johnson announced his ambitious plan to ban the sale of new petrol and diesel vehicles from 2030. This proposed change is already making waves throughout the automotive industry, and for you, it might mean driving an electric vehicle (EV) in the foreseeable future.

It's no secret that EVs are kinder to the planet than their petrol and diesel counterparts – but what should you be taking in consideration before jumping into the driving seat of one of these eco-friendly cars?

As part of our latest campaign, we've taken 15 different EVs to compare their range, battery capacity, full charge cost and recommended retail price to give a clearer picture of what you can expect out of these cars. We've also looked at some of the UK's longest routes to see how well these vehicles would fare on long journeys. Keep reading to discover our findings…
The cost of charging vs range
While an EV doesn't require a trip to the forecourt to 'fuel up', it's important to note that you'll still need to pay for the cost of charging it. Based on an average cost of electricity of 14.37p per kWh, the EVs in our list range from as little as 7.90p per charge for a Smart EQ ForFour to 44.55p per charge for a Tesla Model S Performance. You might think that it makes sense to go for the vehicle that costs the least to charge, but it's worth delving a little deeper to work out just how far a full charge will actually take you.

For example, although the Smart EQ ForFour boasts a low cost per charge rate, you will only be able to travel 55 miles on a fully charged battery. Meanwhile, the Tesla Model S Performance has a range of 230 miles on a fully charged battery, which would cover the entire distance of the M1 which runs from Staples Corner, London to Hook Moor, Yorkshire – and it'll even have 30 miles of charge left to spare upon arrival.
In this instance, you'd be able to travel six times further in the Tesla Model S Performance than the Smart EQ ForFour, meaning that you're actually getting more out of your EV, even if it does cost more to charge it up in the first place.
How many charges?
Still on the subject of range and charging, it's interesting to see how many times an EV would need to be charged in order to complete a long journey. For example, the Mini Electric has a 115 mile range with a battery capacity of 32.6 kWh, meaning that it would require 3.4 charges in order to travel the 396 mile route from central London to Edinburgh.
In comparison, the Hyundai Kond Electric has a higher mile range of 245 and a much larger battery capacity of 67.5 kWh, which is more than twice the capacity of the Mini Electric's battery. As a result, the Hyundai Kond Electric would need just 1.6 charges to make the same journey.
Generally speaking, this tells us that the higher the battery capacity, the further the vehicle can travel, and that the more mile range a vehicle has, the fewer charges it would need to get from start to finish.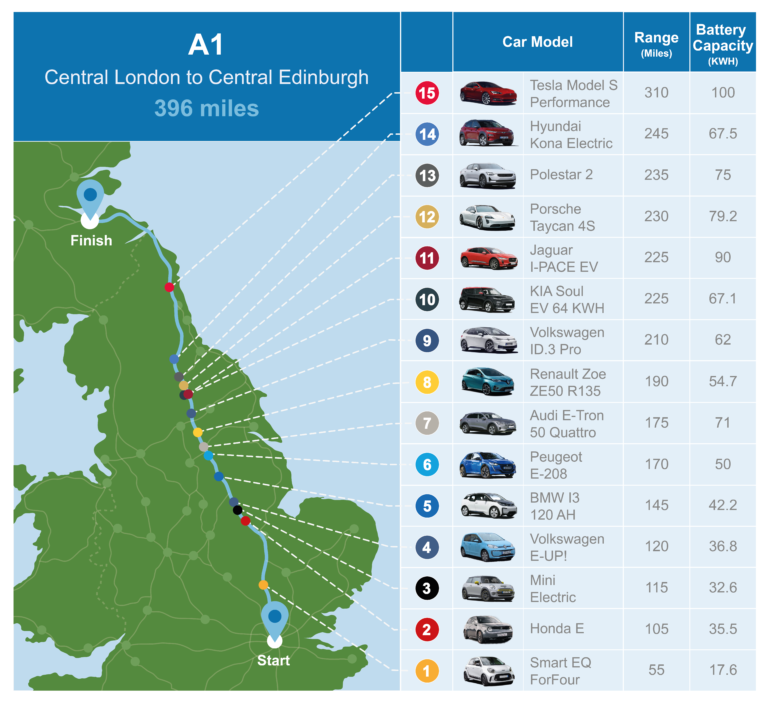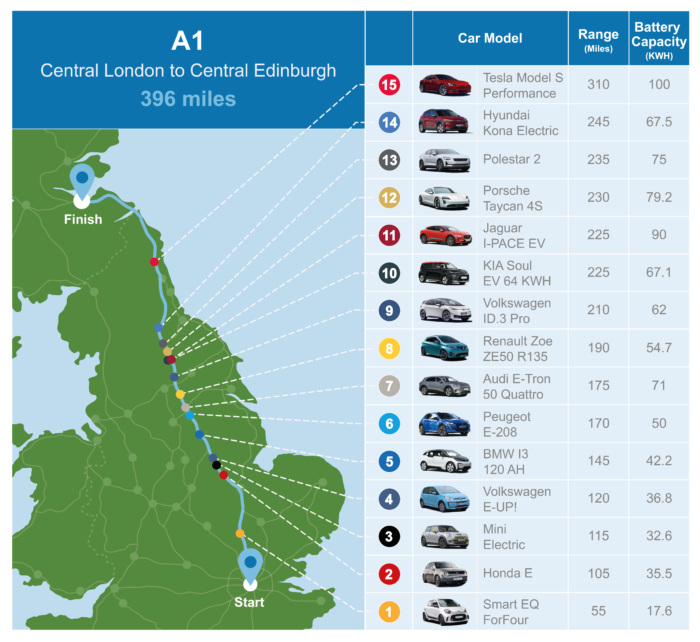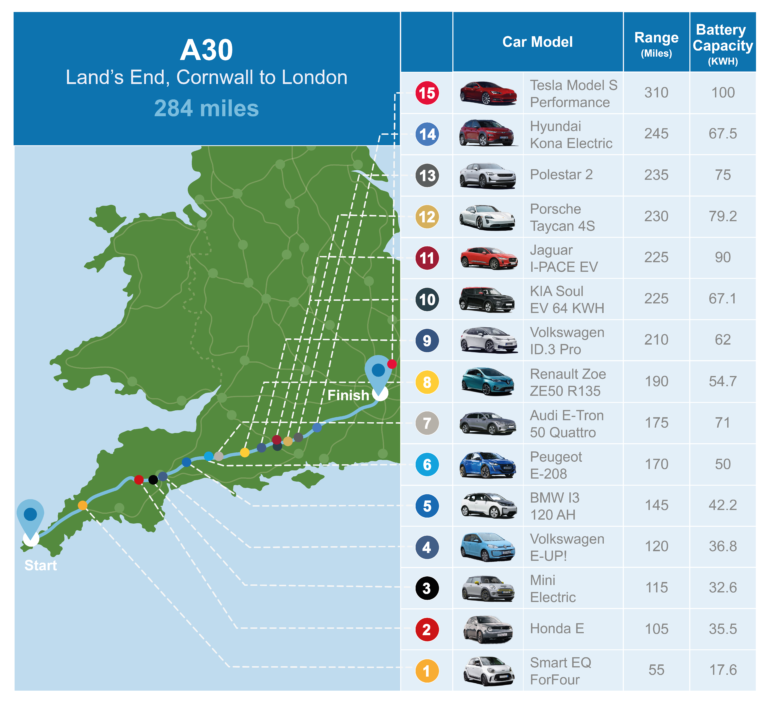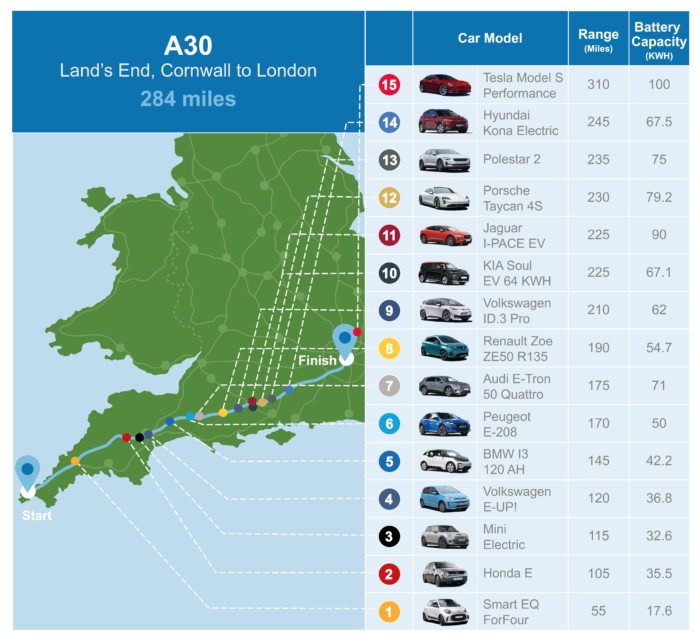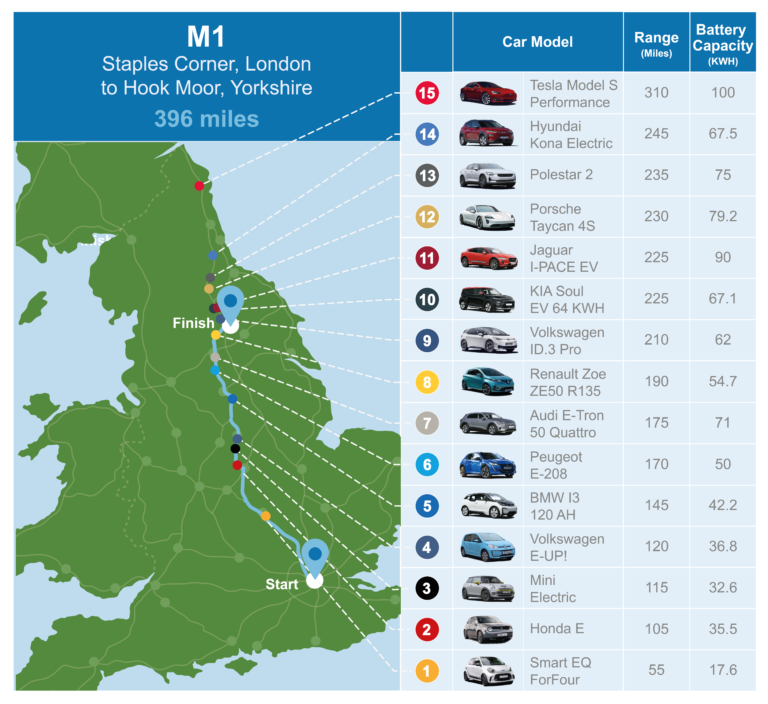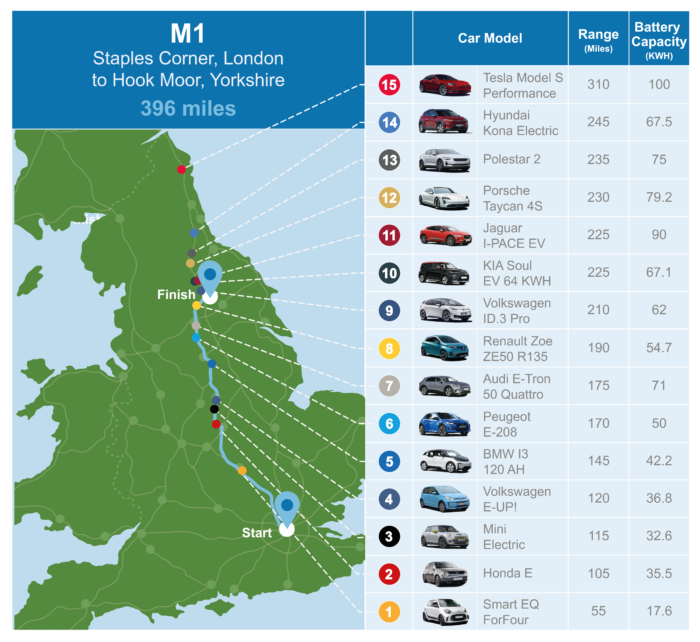 Price tag
Of course, price plays a huge role when choosing a car, and there's no denying that the current cost of EVs tend to be a little on the expensive side. One of the reasons EVs have such a high price tag is largely down to what goes into them. An EV is manufactured using some pretty pricey components – including a cell called a cathode. This consists of expensive metals, like cobalt, nickel, manganese and lithium, to give it the energy it needs to get the vehicle from A to B.

Going by the cars in our list, you can expect to pay £23,195 for a Volkswagen E-UP! to £83,5580 for a Porsche Taycan 4S. But the good news is, you don't necessarily have to fork out in full to be the driver of one of these cars. At LeaseCar, we offer affordable leasing deals, making it possible for you to drive away in an EV at a price that suits you.
If you could choose, which EV would you go for, and why? Let us know what you think using the hashtag #EVChargeRange – and don't forget to check out our full campaign too.